Embroidered and Woven Badges
Wyedean manufactures a diverse range of types and styles of badge for many different purposes.
The company's primary market is in the military market producing rank badges, qualification badges, organisation badges, shoulder titles and service stripes for The British Army, The Royal Navy, The Royal Air Force and The Metropolitan Police. However, it also produces badges for the United Nations, London and District Fire Brigade, Police Service Northern Ireland (PSNI) and many more, and the company's scope of manufacture is not limited to the military and armed forces.
If you have a badge requirement, no matter what the industry, then Wyedean is happy to quote and produce samples.
There are three main ways to produce a badge, each of which has its own merits and suitability for a project. We have outlined them below and welcome your enquiries.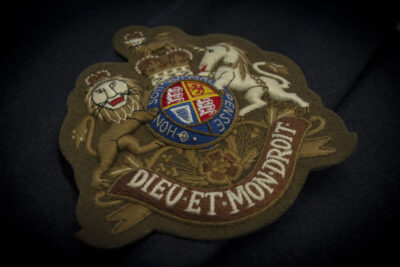 Machine Embroidered Badges
As the name suggests, machine embroidered badges are produced by machine stitching a complex pattern onto a large piece of backing material, before each individual badge is cut out.
Machine embroidery is appropriate when a badge needs to be mass-produced cheaply in large quantities.
The quality of the badges is extremely consistent and uniform, and large quantities can be manufactured very quickly.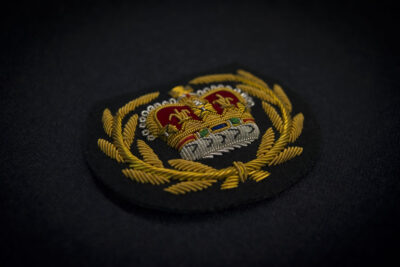 Hand Embroidered Badges
Hand embroidered badges are manufactured by stretching a piece of material over a frame and stitching threads through purls.
Hand embroidery is a slower and more time-consuming process with every stitch carefully embroidered by hand.
Every hand embroidered badge is unique, and the process can be lengthy depending on the complexity of the pattern.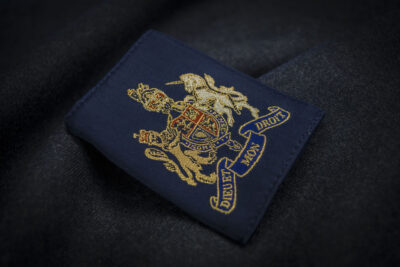 Woven Badges
Woven badges are machine produced by weaving the backing and the badge design simultaneously into one single piece.
Woven badges tend to be thinner and flatter than their embroidered counterparts due to their construction, and are a cheap, quick-to-produce option for large quantities.